Touchstone Showcases New Electric Fireplaces at Philly Home Show
Feb 9, 2016, 14:32 PM
We're thrilled to have Touchstone Home Products joining us at the
2016 Philly Home Show
. And they're excited to bring their new electric fireplaces to you! Can't wait to see them in Booth 204 this weekend and next? See what they had to say about this hot home accessory and what they're most excited about at the show.
From Touchstone Home Products:

"The Touchstone Home Products team returns to the annual
Philly Home Show
on February 12-14 and February 19-21, 2016 at the Pennsylvania Convention Center in Philadelphia, PA.
This popular show draws thousands of people from the mid-Atlantic region and features celebrity speakers including Jeff Devlin of DIY Network's
I Hate My Bath
and the much anticipated new HGTV program
Stone House Revival
, John Gidding of HGTV'S
Curb Appeal,
and Alison Victoria of DIY Network's
Crashers
.
Over 300 exhibitors offer show-goers design tips, project inspiration and product guidance. At Booth 204, Touchstone Home Products, Inc. will showcase design-minded
electric fireplaces
,
motorized TV lifts
and
pop up TV lift cabinets
. 'We look forward to the Philly Home Show every year. This show is right in our backyard. We love meeting other local exhibitors and attendees,' explains Frank Quinlisk, Touchstone Home Products Vice President.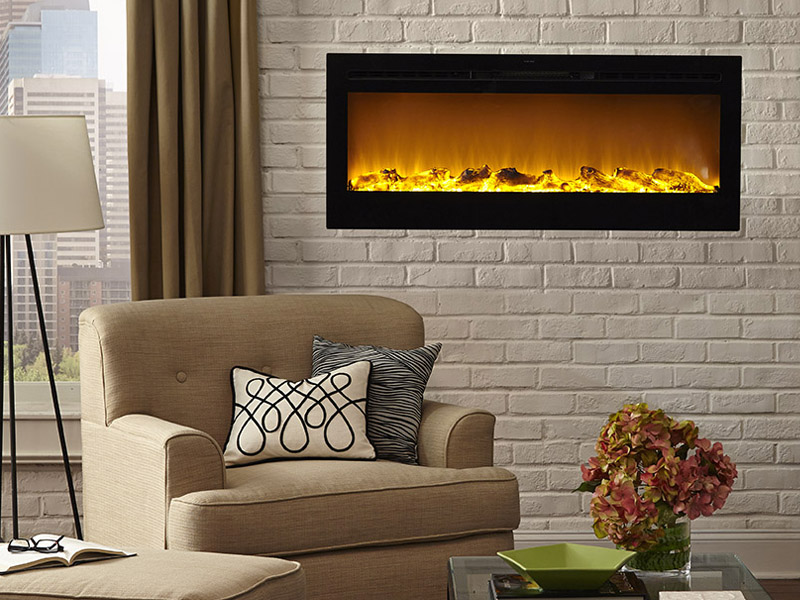 Touchstone Sideline50 Electric Fireplace
Quinlisk adds, 'This year, we are featuring new electric fireplace sizes and styles, and we're excited to show them off. Our new 36-inch wide Sideline Electric Fireplace is getting a lot of buzz. It's the perfect size to integrate into a bathroom or kitchen renovation.'
Designed for easy installation, Sideline Electric Fireplaces can be recessed into the wall for a flush mount effect or mounted directly on the wall. The plug and play electric fireplace means you don't have to plan for venting or gas lines in the installation. Within minutes, you can enjoy the ambiance and beauty of the natural flame display.
New 36-inch and 72-inch Electric Fireplaces
Touchstone introduces two new Sideline sizes, the
36-inch wide Sideline36
and the
72-inch wide Sideline72
. These new electric fireplaces are well built with all the same popular features as the Sideline 50 and Sideline60.
All Sideline Electric Fireplaces feature:
5000 BTU heater for rooms up to 400 square feet
Available in 26, 50, 60 and 72 inch sizes
Cool-to-the-touch fireplace face
Ships with both log and crystal options
Affordable alternative to gas
Features the most life-like flames available
Flame display can be enjoy with or without heat as desired
IR remote control
Exclusive Philly Home Show Discount
Philly Home Show attendees who place orders at the
Touchstone Home Products booth
will save 10% off. Visit Booth 204 for this Philly Home Show exclusive pricing."
The
Philly Home Show
takes over the Pennsylvania Convention Center for
two weekends ONLY
: February 12 - 14 and 19 - 21. With hundreds of home improvement experts ready to help with your next project, it's a must-attend event for Philadelphia homeowners. Don't have tickets yet?
Get 2-for-1 when you connect with us on Facebook
. Treat a friend or family member to the show. We can't wait to see you there!
PENNSYLVANIA CONVENTION CENTER
FEBRUARY 12-14 & 19-21, 2016.