Get to Know Jeff Devlin
Feb 12, 2016, 17:51 PM
We're thrilled to have Philadelphia local and HGTV and DIY Network star, Jeff Devlin, joining us at the
2016 Philly Home Show
. Jeff has been sharing his home improvement tips and ideas with audiences via
I Hate My Bath
and
Ellen's Design Challenge
, and will have lots of advice to offer in his latest series,
Stone House Revival.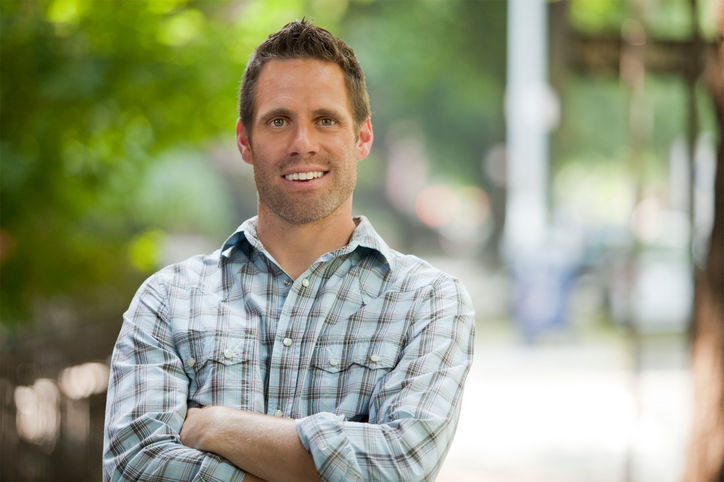 Jeff will be teaching folks the ins and outs of home renovations at the Philly Home Show's Make-It, Take-It Workshops on Feb 13th. There are only 15 people per session, so get there early if you want a spot with Jeff.
Here's our schedule for more information
.
But before you join Jeff at the Philly Home Show this weekend, get to know him a little better in our fun Q&A below.
Q: What is your ultimate comfort food?
Jeff
: "Peanut Butter & Jelly (with Reese's peanut butter, Strawberry Preservatives and toasted bread)."
Q: What do you eat if you're having a bad day?
Jeff
: "Chocolate."
Q: What's your least favorite chore?
Jeff
: "Windows - They always seem to get dirty 10 seconds after you finish cleaning them."
Q: If you could be gifted with one super power, what would it be?
Jeff
: "To be able to have more than 1 super power."
Q: What was the best party you've ever attended and why?
Jeff
: "NKBA Bash in Vegas Great time, lots of other friends and colleagues."
Q: Would you rather watch Orange is the New Black or Game of Thrones?
Jeff
: "Game of Thrones"
Q: If you had to give up Facebook or Instagram, which would you pick?
Jeff
: "Both."
Q: What are your best tips to help homeowners with curb appeal year-round?
Jeff
: "Landscaping is everything. Care for plants, trees, and keep the grass green."
Q: What has been your most embarrassing fashion choice?
Jeff
: "Skinny Jeans."
Q: What's your go-to hostess gift?
Jeff
: "Wine."
Q: What's your guilty pleasure?
Jeff
: "Disney Movies."
Q: What should homeowners look for when it comes to working with a contractor or interior designer?
Jeff
: "Honesty."
Q: What's one thing we wouldn't guess about you?
Jeff
: "My favorite color is yellow."
Q: Are you a dog person or a cat person?
Jeff
: "DOG!"
Q: What is your favorite space to makeover and why?
Jeff
: "Kitchen, Lots of carpentry."
Q: Would you rather be too hot or too cold?
Jeff
: "Too hot ."
Q: What's your biggest pet peeve?
Jeff
: "Cell phones."
Q: What's one thing you think people should splurge on?
Jeff
: "Nice showerhead - you start every day with a shower, (hopefully). Why not start it with a smile?"
Q: What's one simple thing homeowners can do to improve their landscape or garden?
Jeff
: "Honestly it is just constant care and keeping up with everything. The further you let things go the more work it is in the long run."
Q: Who's your favorite Disney princess and why?
Jeff
: "Anna ( Frozen) She just seems like someone that I would like to build a snowman with!"
Q: What's the best way for homeowners to incorporate the latest trends into their decor?
Jeff
: "Be careful with trends, they come and go quickly. Think timeless designs."
Q: How can you tell what has staying power and what doesn't?
Jeff
: "If something has been around forever, like Farmhouse Kitchens, it has staying power. They are simple designs that meet our needs as well as fulfill the goal of comfort and style."
Jeff's Final Piece of Advice
: "Planning is absolutely everything. Get a good plan either on your own or consult a professional to help you. The more work you do as a consumer to figure out what you like the better prepared you will be when it comes time for estimates and completion of your project."
The
Philly Home Show
takes over the Pennsylvania Convention Center February 12-14 and 19-21, 2016. With hundreds of home improvement experts ready to help with your next project, it's a must-attend event for Philadelphia homeowners. Don't have tickets yet?
Get 2-for-1 on Facebook
and treat a friend or family member to the show! We'd love to see you there!
PENNSYLVANIA CONVENTION CENTER
FEBRUARY 12-14 & 19-21, 2016.