3D Virtual Tours a Game Changer in Kitchen & Bath Remodeling
We're thrilled to have Touchstone Kitchen & Baths joining us at the 2018 Philly Home Show. This Lansdale-based remodeler has fully embraced virtual tours to demonstrate their expertise and creative design style to new clients.

In anticipation of this weekend's Philly Home Show, Touchstone Kitchen & Baths* is sharing the future of virtual tours and how they have changed the way they run their business.

Technology has already changed the way homes are bought and sold, and now it's changing the way homeowners choose how to remodel their home. Imagine taking a stroll through a newly remodeled home – that fresh paint smell, beautiful cabinetry, an oversized marble kitchen island, a dramatic sunset through large bay windows, and you're relaxing with a fresh pour of your favorite drink. Except you're actually sitting on your couch in your pajamas with Law & Order reruns in the background while you're glued to your laptop taking a 3D virtual tour of your dream kitchen.

Matterport 3D Virtual Tours allow you to virtually walk through a space from anywhere in the world, so long as you have an internet connection and a mobile device. It's a strange mix between high resolution photography and a video game, but with lasers and not just one, but six cameras!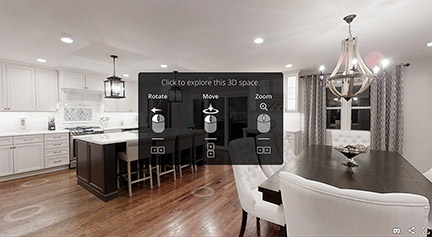 Controlling the virtual tour can be done several ways: by clicking on the opaque circles on the floor, simply clicking in the general direction you'd like to "walk," by using the directional keys on your keyboard, or by using your finger on a touch-sensitive device.

Carl Smith, founder of Touchstone Kitchens & Baths, had this to say: "Virtual tours have changed the way we run our business. Sure, photos are great for showing off design elements, but when a client is able to walk through a kitchen remodel that's an hour away right from the comfort of their own living room – to experience a newly remodeled kitchen or bath as if they were actually standing right there in it – it's a game-changer."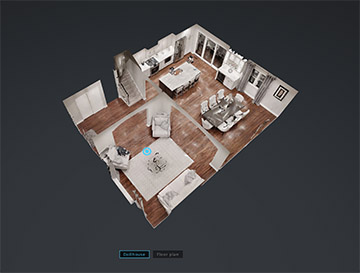 If you're anything like us, you spend a LOT of time in your kitchen. So, it goes without saying that you want the perfect space to whip up a quick boeuf bourguignon when the mood strikes. The only problem with a kitchen remodel, though, is that you don't really know what you're getting until you have it. Sure, there are cool artistic renderings and drawings, and maybe some photos of a similar kitchen. But it just isn't the same. With a virtual tour, you actually get to experience the kitchen before you ever hire a contractor.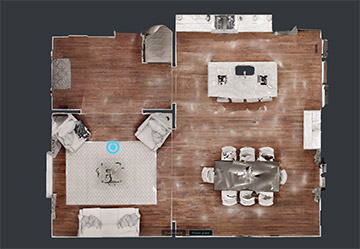 Greg Morano, lead designer at Touchstone Kitchens & Baths, had this to say: "It really is as amazing as it sounds. They [virtual tours] have given my design clients a totally new sense of what their kitchen will be like when it's done. Instead of spending a ton of time putting together a rendering to show how a couple elements will work together or lugging samples around a showroom to see pieces side-by-side, I can just take them on a virtual tour of a similar kitchen where the design elements are the same. If you haven't experienced a 3D virtual tour yet, I highly recommend you do before you begin planning your remodel."

The Philly Home Show will be taking over the Pennsylvania Convention Center January 12th-15th & 19th-21st, 2018. Ready to give virtual reality a try? Stop by the Touchstone Kitchens & Baths booth (#622) this weekend! With hundreds of home improvement experts ready to help with your next project, it's a must-attend event for Philadelphia homeowners. What are you waiting for? Get your tickets NOW!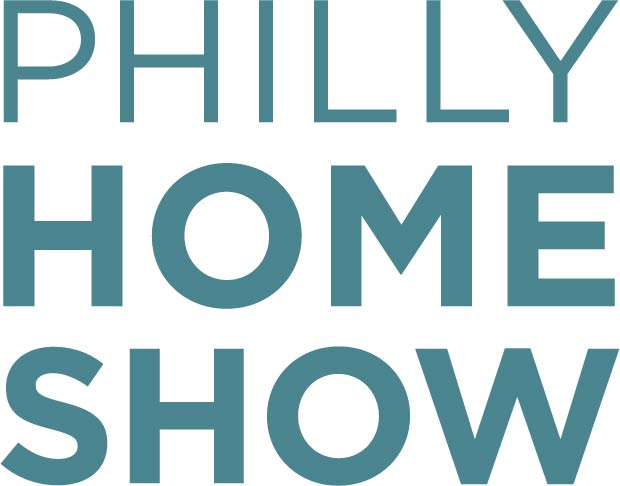 PENNSYLVANIA CONVENTION CENTER
JANUARY 12–15 & 19-21, 2018
Written by: Jonny Shiver of Redcoat Creative
Jan 11, 2018, 16:56 PM