Succulents: Your New Hobby
Growing succulents is a popular home activity that shows no sign of stopping soon. That's why we're excited about the new Succulent Bar by
Vault & Vine
at the Philly Home Show! It's where you can design and create a customized succulent planter to brighten up your own home, or give as a gift.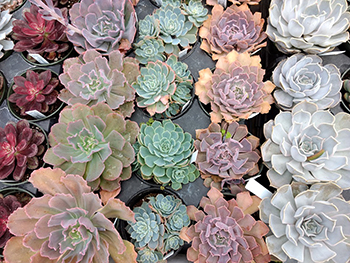 Just like at a salad bar, you can select from a variety of decorative containers, fill them with beautiful succulents, and finish them with "toppings" (such as moss or rocks). Featuring exotic shapes and textures that are well-suited to modern home design, succulents can be found in a variety of colors, are pest-resistant, and, best of all, they're easy to care for.
Because they store water in their thick, fleshy leaves, succulents are native to regions with long, dry seasons. In our area, they are best grown as indoor plants that bring beauty and interest year-round. Vault & Vine works with experienced local growers to procure a diverse variety of high quality succulents and cacti for their East Falls floral studio and cafe, and now for the Philly Home Show, too.
"We believe that bringing plants into homes has many benefits, including air cleansing, boosting creativity and making people happy," says Vault & Vine owner Peicha Chang.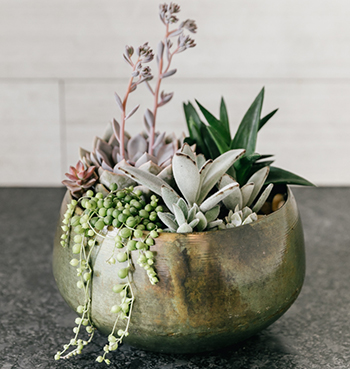 With all those benefits, who wouldn't want to create new home designs using succulents? Just follow her recommendations for successfully caring for these beauties:
-Succulents prefer to be grown in full sun. "A south-facing windowsill is ideal," says Peicha. "Succulents are desert plants that can only thrive if they are allowed to dry out between waterings."
-Use soil specifically designed for succulents. "The type of soil mix that's designed for succulents and cactus allows for faster draining than potting medium that's meant for other house plants, which is what you want with succulents," Peicha says.
And a couple of fun facts about succulents…
#1: There are about 60 different plant families within the group known as succulents, including cacti. So, all cacti are succulents, but not all succulents are cacti!
#2: Tequila is made from the blue agave plant, which is a type of succulent.
Visit the Succulent Bar by Vault & Vine at the 2019 Philly Home Show, and visit Vault & Vine's cafe and floral studio at 3507 Midvale Avenue in the East Falls section of Philadelphia. Get ready to grow your new hobby.



JANUARY 11-13 + 18-20, 2019.
PENNSYLVANIA CONVENTION CENTER
Dec 27, 2018, 20:59 PM