See Fixer Upper Favorite, Clint Harp
Don't miss Clint Harp on the Main Stage on Friday, Jan. 18 and Saturday, Jan. 19! You may know him as the wood-loving carpenter who creates custom furniture pieces on HGTV's hit show
Fixer Upper
. But there's much more to him than his wood crafting skills, as revealed in his recently-published, inspirational memoir "
Handcrafted: A Woodworker's Story
".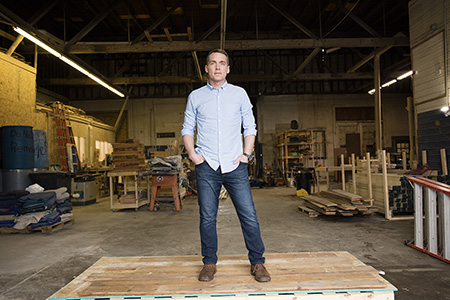 Clint and his wife Kelly, a designer, run
Harp Design Co.
, a furniture and home goods company in Waco, Texas with a commitment to creating environmentally sustainable products. The couple and their Harp Design team now star in their own new TV show,
Wood Work
, on DIY Network, where they can be seen improving various families' home spaces and creating custom wood pieces, including entertainment centers, coffee bars, ping pong tables, and bunk beds.
You can read more about Clint in the Show Guide when attending this year's Philly Home Show. In it, he describes how to bring the beauty and warmth of reclaimed wood into your own home. Here are some additional takeaways from our conversation with him:
What is it about crafting wood by hand that is so intriguing / rewarding to you?
Clint: "When you're working with wood, you're tapping into something that's as old as the planet itself. For me, it represents where we come from, and where we're headed: it's real, it's tangible, and it has so many different uses. I love how it changes as you're working with it, whether planing, sawing, cutting, sanding or whatever else. I just love nature, and you can't get more natural than wood."
Why do you like to blend different kinds of woods in a project?
Clint: "To me, blending woods is just the natural way, and is symbolic of how I think we want our world to become. People come from different places and cultures, and it's really wonderful when we're joined together. We all reside in our own "camps" to a degree, but when we're mixed up together is when we're the most beautiful. For me, it's the same with wood."
We have a lot of older homes here in Philadelphia. How should we care for the old, wooden architectural details found in so many of them?
Clint: "I would recommend taking some time to evaluate what you've got, before making any changes. Talk to professionals, look at videos, and just be thoughtful before eliminating or changing some of those authentic old home details that can't easily be replaced. For example, maybe you can replace old window panes with energy-efficient glass, instead of tossing the windows entirely. And if you do decide to toss things, please consider donating to Habitat for Humanity's ReStore, so that someone else can give them new life."
Clint Harp will be on the Main Stage of the Philly Home Show on Friday, Jan. 18 and Saturday, Jan. 19. And while you're at the show, make sure to check out the Philadelphia ReStore Pop-Up Shop from Habitat for Humanity!



JANUARY 11-13 + 18-20, 2019.
PENNSYLVANIA CONVENTION CENTER
Dec 30, 2018, 17:54 PM