See HGTV's Matt Blashaw at the Philly Home Show
You've seen him hosting HGTV and DIY Network shows
Yard Crashers
,
Vacation House for Free
,
Project Xtreme
,
Money Hunters
,
Blog Cabin
and
Professional Grade
, and
Ellen's Design Challenge
. Somehow, he successfully navigates these roles with offscreen ones as a contractor, real estate agent, and yard consultant.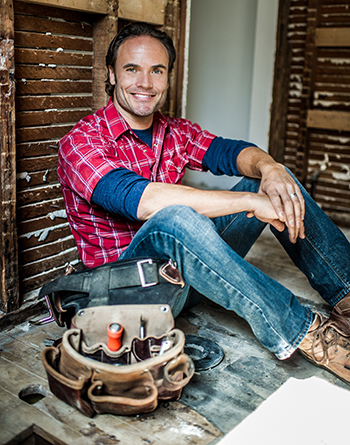 Growing up in California, Matt built homes with his dad. So, at this point, he figures he has experienced "pretty much all aspects of home and yard inspection, maintenance, and improvement." He'll share some of his home knowledge (and, presumably, how to complete an entire home remodel in only 30 minutes) during his Main State appearances on Friday., Jan. 11, Saturday, Jan. 12 and Sun. Jan. 13.
This being Philly, we asked him for tips on making the most out of small city spaces and such. Check out our brief interview below!
What are your best small space living hacks?
-Multipurpose pieces, like the "Murphy bar" I built that folds down from a wall. Yes, I really did build and use a Murphy bar! The table and legs extend down from a wall.
-Use vertical space wherever possible; even grow houseplants that grow vertically, instead of ones that spread and take up horizontal space.
-Philly gets some great weather, so if you can, extend your living space into the outdoors, or open up doors or windows to the outside to help expand a small interior space.
-Visually, you could continue the look of indoor, wood flooring into an outdoor area, by using a similar-looking tile version outside.
-There are some great new systems available for making your own vertical plant walls. Some are really interesting and attractive to have in a small yard.
What home design trend are you seeing lately that you really like, and why?
I like the new, colorful graphic tile that's available now. It draws you in, adds vibrant color, and makes a statement - just be careful not to overdo it. Use it on a kitchen island, around a fireplace, or to instantly turn a laundry room into a more fun and happy place.
What project have you been most proud to work on?
Renovation work brings so much positivity and happiness to people's lives, it's just incredible to be part of. Building new backyards for children in the Make-A-Wish Foundation, and creating new rooms for sick children through my own Build For Love Foundation, are definitely the projects I will always be most proud of.
What are you most known for among your TV colleagues?
My TV crew members like to make fun of my hair, especially when it's full of putty or cement. And I'm the master of hammer flips; just check out my double hammer flip challenge with Chip Gaines (of HGTV's
Fixer Upper
).
Matt Blashaw at the Main Stage of the Philly Home Show on Fri., Jan. 11, Sat., Jan. 12 & Sun., Jan. 13. Learn more about his Build For Love Foundation
here
.



JANUARY 11-13 + 18-20, 2019.
PENNSYLVANIA CONVENTION CENTER
Dec 31, 2018, 18:06 PM