Make a year's worth of sales in two weekends!
Meet your new customers at the Philly Home Show. Qualified homeowners attend the show annually seeking helpful advice, solutions and new products for their next renovation, décor or landscape project.

The Philly Home Show features high-interest exhibits, high-profile experts and the latest trends to bring in customers who are ready to move ahead with their home improvement projects.
2020 EXHIBITOR SPACE RATES
10'x10' = 100 sq.ft. $2,159
10'x20' = 200 sq.ft. $4,318
10'x30' = 300 sq.ft. $6,477
20'x20' = 400 sq.ft. $8,636
20'x30' = 600 sq.ft. $12,954

Direct Sell Premium: $250 per booth
Corner Premium: $250 per corner
Main Aisle Premium: $200 per aisle

*Carpeting, tables, chairs, electric, etc... are not included with the cost of your exhibit space. An exhibit manual containing these order forms will be available online prior to showtime.
Exhibitor amenities package
> Standard draped back wall and side rail
> VIP passes
> Listing in the official show guide
> Exhibitor badges
> Pre-show promotional material
> 24-hour security
> Photograph of your booth after the show
RECEIVE A FREE BOOTH QUOTE
MEET WITH QUALIFIED HOMEOWNERS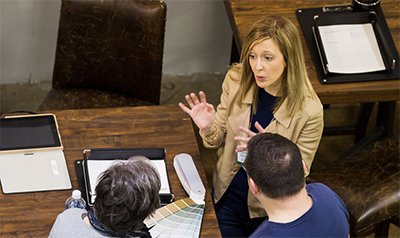 90%
are homeowners

69%
have a project in mind

68% plan to spend up to $25,000 with an exhibitor from the show within the next 12 months

69%
attend with a spouse or partner – meet BOTH decision makers

$108,376 average annual household income
Source: 2019 Marketplace Events Attendee Survey

Testimonials
"Our company thrives on face-to-face marketing. The Philly Home Show and the Philly Home + Garden Show allow us to meet an outstanding amount of homeowners."

Fred Taylor
MID ATLANTIC WATERPROOFING

"If you're not here you're not willing to grow your business outside your general service area."

Ed Rudloff
RUDLOFF CUSTOM BUILDERS

"Great show for brand-building in the Greater Philadelphia home improvement market."

Tom Balutis
THEHOMEMAG PHILADELPHIA

"We met and had interactions with a lot of folks. The show team receives five stars!"

Linda Damiani-Small
AFFINITY FURNITURE

"We were very pleased with the attendance and the qualified buyers at the show."

Cindy Weil
WEIL CLOCKS

"The layout of the show floor was well done and the advertising of the show was excellent. The way the show team handled move-in and move-out was amazing!"

Ken Klinger
BASEMENT WATERPROOFING SPECIALISTS

"It was a very fun and friendly atmosphere."

Ronald Ford
HOARDERS EXPRESS

"This was a wonderful show with a large crowd."

Shanna Ware
VINYL WINDOW WELLS

"We were pleasantly surprised at how busy we were. There was a lot of traffic and we generated some quality leads."

Christopher J. Burt
NATURALLY HOME CONSULTING

"The show was promoted well and had great attendance."

Ryan Megna
CUTCO

"The show team is great to work with. I like the wide aisles."

Linda Kennedy
GRANITE TRANSFORMATIONS

"The Philly Home Show is one of the few events that is worth the money we invest. Marketplace Events does a great job promoting the show and provides teaching opportunities to help exhibitors get the most from their events."

Lynne Davis Lee
GUTTER HELMET BY HARRY HELMET

"Show was very professionally done. Good marketing and excellent turnout."

Curt
SANDBERG'S HARDWOOD

"I generated enough at this show to supply my sales reps with six months of great earnings!" Brad Cohen,

NATION-WIDE BUILDING AND REMODELING

"Marketplace Events has the best-attended, best-promoted and best-advertised home shows of any company that we have worked with. We sell high-end, high-quality products and Marketplace Events shows deliver the customer we look for and are our best marketing value."

George McCrory
CARIBBEAN CLEAR OF PA

"The amount of traffic the show generated was incredible."

Bryan Geesey
GEESEY'S ROCK & BLOCK DESIGNS

"This was our first show appearance and the Marketplace Events team was awesome! Overall, it was great!"

Chuck Colletti
PINE CREEK STRUCTURES
​Search the ​Exhibitor List
Exhibitor List