2020 Speakers & Celebrities Coming Soon
Take a look at our 2019 Guest Speakers Below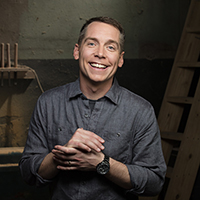 CLINT HARP
One-of-a-Kind Creations from a One-of-a-Kind Guy
Custom furniture and creative home décor are always on Clint Harp's mind. He not only makes an appearance with Chip and Joanna Gaines on HGTVs' Fixer Upper, he also has his own new show coming up on DIY Network called Wood Work. And wood work he does! Spend some time with Clint as he shares some of the secrets to his success, how he got his start, and learn what kind of wood is his favorite to work. You will have a great time, we are certain, and you are bound to get inspired by some of Clint's creative ideas.
Now, together with his wife Kelly and their 3 kids, the Harps spend each day pursuing their dream and blazing the new trail of owning their own company. Harp Design Co. provides quality furniture and home goods to customers all across the U.S. and abroad. Constantly adjusting to unexpected national exposure, the Harps work hard each day to grow as a family and a business whose core values are love, beauty, and creativity.
Clint appears as a supporting role in Fixer Upper, helping his close friends and stars Chip and Joanna Gaines as they remodel homes in Waco, Texas. The show attracted more than 19 million viewers its first season, is currently airing season two and shooting the third season. Clint takes recycled and reclaimed wood, usually found pieces, and creates beautiful, one-of-a-kind pieces meant to bring families together, which the Gaines incorporate into their final remodel and home designs.
Up next, Clint will star on the DIY Network series Wood Work. Along with his wife, Kelly, and the team at Harp Design Co, Clint uses reclaimed lumber to build new furniture out of old wood for clients. Crazy requests with tight deadlines are the norm, but Clint and his team are ready to tackle any "Wood Work" challenge.

Clint made an appearance on the main stage Friday, January 18 and Saturday, January 19, 2019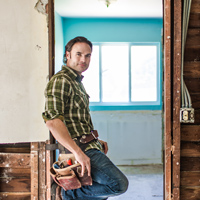 Matt Blashaw
Matt Blashaw of HGTV's Yard Crashers and Vacation House for Free

The Orange County, California native began his building career at a very young age in his dad's lumber yard, and worked on everything from plumbing to electrical. Shortly after graduation, Matt received his contractor's license and began working as a self-employed general contractor, specializing in remodeling homes.

He has hosted several series for the DIY Network and HGTV including Project Xtreme, Money Hunters, Blog Cabin and Professional Grade, and specials such as Cool Tool Builders Show and Worst Kitchen In America.

Currently, Matt hosts the hit HGTV series Yard Crashers and Vacation House for Free. You may have also seen him on season 2 of Ellen's Design Challenge!

Matt made an appearance on the main stage Friday, January 11, Saturday, January 12 and Sunday, January 13, 2019.